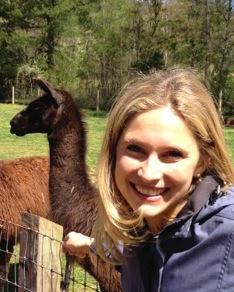 julia.carnevale@ucsf.edu
Honorary Lab Member
I am currently in my oncology fellowship at UCSF and I am in the postdoctoral research phase of training. In the clinic I take care of patients with gastrointestinal cancers, and I have a specific interest in pancreatic cancer. This is the most devastating cancer with the worst prognosis, and I am very excited to be working in the lab to explore this malignancy at a molecular level to try to find new drug targets for this disease. Many people don't know that about 10 percent of pancreatic cancer patients are thought to have a hereditary predisposition, however we have not yet identified the majority of the genes that lead to this predisposition. We do know that the BRCA 1 and 2 genes can predispose patients to developing pancreatic cancer, and given the relative frequency of BRCA1/2 mutations in the population, this is a subset of pancreatic cancer that is of great research interest. While we have learned much about targeting the homologous repair defect in BRCA-mutant breast and ovarian cancer, we know less about how to target this defect in the context of pancreatic cancer. I am very excited to be working in the Kampmann lab to harness the power of novel screening platforms to explore specific vulnerabilities in BRCA-mutant pancreatic cancer models. Specifically, I am working on performing a CRISPRi screen on an isogenic pair of pancreatic cancer cell lines with and without a functional BRCA gene. I hope this screen will help us identify new ways to treat a significant subset of pancreatic cancers that harbor DNA-damage repair defects.
Education:
BA, Stanford 2005
MD, Harvard 2011
Publications:
Carnevale J, Ashworth A. Assessing the Significance of BRCA1 and BRCA2 Mutations in Pancreatic Cancer. J Clin Oncol. (2015) May 18.
Wang C, Carnevale J, Rubenstein JL. Progress in CNS Lymphomas. Br J Haematol. (2014) Aug;166(3):311-25.
Renella R, Carnevale J, Schneider KA, Hornick JL, Rana H, Janeway K. Exploring the association of succinate dehydrogenase complex mutations with lymphoid malignancies. Fam Cancer. (2014) Sep;13(3):507-11.
Carnevale J, Ross L, Puissant A, Banerji V, Stone RM, Deangelo DJ, Ross KN, Stegmaier K. Syk Regulates mTOR signaling in AML. Leukemia. (2013) Nov;27(11):2118-28.
Berman R, Powe C, Carnevale J, Chao A, Knudsen J, Nguyen A, Edgman-Levitan S. The Crimson Care Collaborative: A Student–Faculty Initiative to Increase Medical Students' Early Exposure to Primary Care. Acad Med. (2012):87;651–655.
Carnevale J, Gropper A, Agnew-Blais J, Mimiaga M, Mhango A, Bail R, Ngoma M. Knowledge, misconceptions and poor caretaker-child communication about HIV in peri-urban schoolchildren of Lusaka, Zambia. AIDS CARE (2011) May;23(5):646-53.
Agnew-Blais J, Carnevale J, Gropper A, Shilika E, Bail R, Ngoma M. Schistosomiasis haematobium prevalence and risk factors in a school-age population of peri-urban Lusaka, Zambia. Journal of Tropical Pediatrics (2009) 56(4):247-253.
Awards / Honors:
2014 Hematology/Oncology Division Clinical Fellow Award, UCSF: Awarded to the fellow who has demonstrated exceptional patient care, superior knowledge and skill in hematology/oncology as well as outstanding teaching and professionalism.
2011 Dr. Bemy Jelin Prize, Harvard Medical School: Awarded to the Harvard Medical School student who most demonstrates academic excellence with career interests in oncology.
2011 Krankle Rose Seegal Prize, Harvard Medical School: For the best published paper on the relation of the medical profession to the community.
2011 Presidential Scholars Public Service Initiative Award, Harvard Medical School.
2011 Graduated Cum Laude, Harvard Medical School: Honors Thesis on Identifying Downstream Targets of SYK in AML
Grants / Fellowships:
2014-present T32 Research Award in Molecular and Cellular Mechanisms of Cancer, Awarded to support post-doctoral research.
2009-10 Howard Hughes Research Training Fellowship
Dana Farber Cancer Research Institute, Dr. Kimberly Stegmaier's laboratory. To research the role of a newly validated drug target, Spleen Tyrosine Kinase, in acute myeloid leukemia.
2007 Harvard Office of Educational Affairs Year-Long Grant
To work on establishing a new branch of Camp Kesem (for children who have a parent with cancer) in Boston.
2007 Paul Dudley White Traveling Fellowship, Harvard Medical School
To complete a child health screening program and research study in Lusaka, Zambia.
2004-5 Stanford's HBREX Large Grant for Undergraduate Research
Matthew Scott Laboratory at Stanford University.
2003-5 Howard Hughes Undergraduate Research Opportunities Grant
Major Grant for Honor's Thesis research in the Developmental Biology Laboratory of Dr. Matthew Scott at Stanford University.