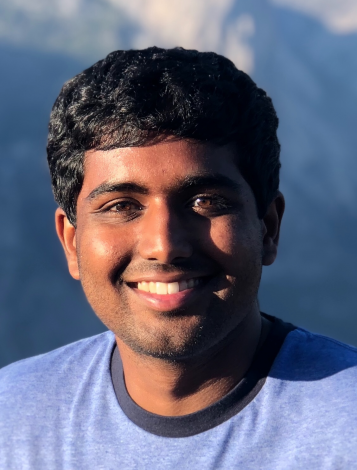 [email protected]
he/him/his
Graduate student, BMS
Joint with the Conklin Lab
Education:
PhD student in Biomedical Sciences, UCSF
B.S. in Chemical Engineering, UC Berkeley
Previous Research Experience:
Schaffer Lab, UC Berkeley. January 2016 – June 2018

Engineered biomaterials to enable stem-cell-derived neuron replacement therapy in rodent models of neurodegenerative diseases
Tested AAV-mediated CRISPR/Cas9 gene editing in neurons derived from patient iPSCs.
Honors and Awards:
NSF Graduate Research Fellowship - National Science Foundation, 2019
AIChE Senior Award - Berkeley, 2018
Genentech Outstanding Student Award - Berkeley, 2017
Publications:
M.M. Adil, T. Gaj, A.T. Rao, R. Kulkarni, C.M. Fuentes, G.N. Ramadoss, F.K. Ekman, E.W. Miller, D.V. Schaffer.
"hESC-derived striatal cells generated using a scalable 3D hydrogel promote recovery in a Huntington's disease mouse
model." Stem Cell Reports (2018).
M.M. Adil, A.T. Rao, G.N. Ramadoss, N.E. Chernavsky, S. Kumar, D.V. Schaffer. "Dopaminergic neurons transplanted
using a cell-instructive biomaterial rapidly alleviate symptoms in a Parkinson's disease rat model." Advanced Functional
Materials (2018).
Research interests:
I am co-advised by Martin Kampmann and Bruce Conklin, and hope to develop safer and more precise CRISPR tools for therapeutic genetic/epigenetic editing. I'm especially interested in applying these tools to treat neurodegenerative diseases.
Other interests:
Basketball, climbing, soccer, and walking/playing with dogs!