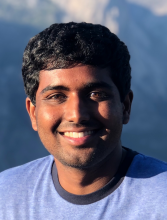 Gokul Ramadoss, joined BMS graduate student in the Kampmann and Conklin labs, was named a 2020 Discovery fellow.
Discovery fellows are advanced PhD students chosen to serve as ambassadors for basic science education based on their leadership potential, excellence in research, community-mindedness, and communications skills.
Read more here. 
Congratulations, Gokul!