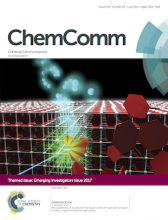 Martin Kampmann was featured as an Emerging Investigator in an annual Special Issue of Chemical Communications, the journal by the Royal Society of Chemistry. He was recognized for his contributions to the development of innovative genetic screening technologies in mammalian cells, and their application to identify the target of new drugs. Dr. Kampmann describes this research in a feature article in the same issue:
Kampmann M (2017) Elucidating drug targets and mechanisms of action by genetic screens in mammalian cells. Chemical Communications, 53: 7162 - 7167
Read more about functional genomics in the Kampmann lab here.