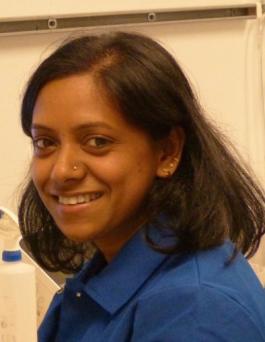 [email protected]
Postdoctoral Fellow
Education:
PhD Molecular Biology & Genetics (May 2015) – Temple University, Philadelphia
M.Sc. Biomedical Genetics (2006-2008) – Vellore Institute of Technology, India
B.Sc. Microbiology (2003-2006) – University of Madras, India
Research experience:
PhD Thesis: Understanding Biological functions and targets of Polo Like Kinase 1 (PLK1) and PLK2
Master's thesis: Mutation screening of Exons 11-12 of SLC4A11 gene in Fuchs endothelial corneal dystrophy

Publications:
Ramkumar P, Smith BA, Akinbamidele AC, Kapcia J, Beauparlant SL, Haines DS (2009) Generation and characterization of novel monoclonal antibodies recognizing UBXD1. Hybridoma 28(6):459-62. PMID: 20025508.
Ramkumar P, Lee CM, Moradian A, Sweredoski MJ, Hess S, Sharrocks AD, Haines DS, Reddy EP (2015) JNK-associated Leucine Zipper Protein Functions as a Docking Platform for Polo-like Kinase 1 and Regulation of the Associating Transcription Factor Forkhead Box Protein K1. J Biol Chem 290(49):29617-28. PMID: 26468278.
Reddy MVR, Akula B, Jatiani S, Vasquez-Del Carpio R, Billa VK, Mallireddigari MR, Cosenza SC, Subbaiah DRCV, Bharathi EV, Pallela VR, Ramkumar P, Jain R, Aggarwal AK, Reddy EP (2016) Discovery of 2-(1H-indol-5-ylamino)-6-(2,4-difluorophenylsulfonyl)-8-methylpyrido[2,3-d]pyrimidin-7(8H)-one (7ao) as a potent selective inhibitor of Polo like kinase 2 (PLK2). Bioorg. Med. Chem. http://dx.doi.org/10.1016/j.bmc.2015.11.045
P Ramkumar, M Kampmann (2018) CRISPR-based genetic interaction maps inform therapeutic strategies in cancer. Transl Cancer Res 7:S61-S67
Honors / Awards:
Florence Gloria Freedman Award, Temple University, May 2015
Research interests:
Cancer is a leading cause of morbidity and mortality worldwide and recent advances in research has helped identify avenues for increasing survival rates of patients. My research interests are in taking advantage of breakthroughs in high-throughput techniques such a CRISPR-functional genomics platform to identify pathways that are rewired causing uncontrolled proliferation of cells resulting in cancer. To that end my project involves using CRISPRi/a library screening in Multiple Myeloma cells to identify novel biomarkers for alternative therapeutic strategies and also identify genes that control drug sensitivities towards conventional therapy.
Other interests:
Traveling to explore new places, biking, Indian classical music.