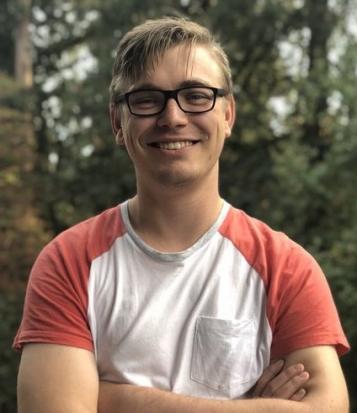 [email protected]
he/him/his
Postdoctoral Fellow
Education
BS, Biochemistry and Molecular Biology - California Lutheran University, 2014

PhD, Chemistry - University of California, Berkeley, 2019
Research Experience
Evan W. Miller laboratory, 2015-2019. Thesis: "Sensing the Electrical Activity of Cells through Molecular Wires by Photoinduced-Electron Transfer"

The Miller lab is interested in developing tools to interrogate cell membrane potential using microscopy. In my thesis work, I explored new molecular wire scaffolds as voltage-sensitive triggers in a fluorescent voltage sensitive dye.

John F. Tannaci laboratory, 2012-2014.

Developed methodology for palladium-catalyzed C-H activation direct arylation using simple model. This new methodology was utilized to improve the regioregularity of conjugated polymers for use in photovoltaics..
Publications
List of publications on PubMed
Boggess, S.C.; Lazzari-Dean, J.; Raliski, B.; Mun, D. M.; Li, A.; Miller, E. W. "Conformational Flexibility Enhances Sensitivity in Fluorescein-Based Voltage Indicators." ChemRxiv. 2020, Preprint, DOI: 10.26434/chemrxiv.11764368

Boggess, S.C.; Gandhi, S.S.; Siemons, B.A.; Huebsch, N.; Healy, K.E.; Miller, E.W.; "New Molecular Scaffolds for Fluorescent Voltage Indicators." ACS Chemical Biology 2019, 14 (3), 390-396; DOI: 10.1021/acschembio.8b00978

Franke, J. M.; Raliski, B. K.; Boggess, S. C.; Natesan, D. V.; Koretsky, E. T.; Zhang, P.; Kulkarni, R. U.; Deal, P. E.; Miller, E. W.; "BODIPY fluorophores for membrane potential imaging." J. Am. Chem. Soc. 2019, 141(32), 12824-12831; DOI 10.1021/jacs.9b05912

Huebsch, N.; Charrez, B.; Siemons, B.; Boggess, S.C.: Wall, S.; Charwat, V; Jaeger, K.; Montiel, F.L.T.; Jefferys, N.C.; Deveshwar, N.; Edwards, A.; Serrano, J.; Snuderl, M.; Stahl, A.; Tveito, A.; Miller, E.W.; Healy, K.E.; "Metabolically-Driven Maturation of hiPSC-Cell Derived Heart-on-a-Chip." bioRxiv, 2018; DOI: 10.1101/485169
Research Interests
Synaptic dysfunction has been identified as an important element in many diseases of the central nervous system, including neurodegenerative diseases such as Alzheimer's disease. I am interested in studying the genetic factors that lead to synaptic dysfunction by combining arrayed genomic screens and functional imaging of neuronal activity.