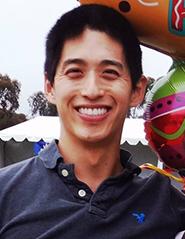 Postdoctoral Fellow
Education
BS in Biochemistry from UC San Diego (2008)
MS in Biochemistry, Viadiu Lab, UC San Diego (2009)
PhD in Biophysics/Cell Biology, Wiseman Lab, Scripps Research Institute (2015)
Publications
Chen J.J., Genereux J.C., Qu S., Hulleman J.D., Shoulders M.D., Wiseman R.L. "ATF6 Activation Reduces the Secretion and Extracellular Aggregation of Destabilized Variants of an Amyloidogenic Protein", Chem & Bio. 2014, 21, 11, 1564-1574
Chen J.J., Genereux J. C., Wiseman R. L. "Endoplasmic Reticulum Quality Control and Systemic Amyloid Disease: Impacting Protein Stability from the Inside Out" IUBMB Life 2015, 67, 404-413
Plate L, Cooley CB, Chen JJ, Paxman RJ, Gallagher CM, Madoux F, Genereux JC, Dobbs W, Garza D, Spicer TP, Scampavia L, Brown SJ, Rosen H, Powers ET, Walter P, Hodder P, Wiseman RL, Kelly JW. Small molecule proteostasis regulators that reprogram the ER to reduce extracellular protein aggregation. Elife. 2016 5. pii: e15550.
Chen J.J., Genereux JC, Suh EH, Vartabedian VF, Rius B, Qu S, Dendle MT, Kelly JW, Wiseman RL. "Endoplasmic Reticulum Proteostasis Influences the Oligomeric State of an Amyloidogenic Protein Secreted from Mammalian Cells." Cell Chem Biol. 2016 23(10):1282-1293. 
Honors and Awards
QB3/Calico Longevity Fellow, 2016
Alzheimer's Association Postdoctoral Fellowship, 2016
Research Interests
Tauopathies are a class of neurodegenerative diseases that are unified by the proteotoxic aggregation of Tau. I am interested in understanding the molecular mechanisms that dictate Tau aggregation as well as its intercellular propagation. Because Tau aggregates have unique prion-like conformations that have unique cellular targets, I am also interested in identifying genes that contribute towards this proteotoxic selectivity. As such, I am using a high throughput CRISPRi/a library screen in a fluorescent reporter cell line to identify genes associated with Tau proteostasis.
Other Interests
Running, biking, badminton