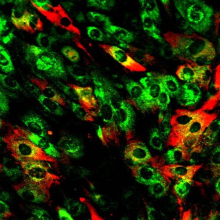 Astrocytes are a support cell type in the brain. In disease and injury, astrocytes become reactive. In our new publication, we establish a CRISPR-based genetic screening platform in human iPSC-derived astrocytes and use it to uncover regulators of reactive states. Using single cell RNA-sequencing, we uncover that a mix of microglia derived cytokines leads to two distinct states of reactive astrocytes (not one, as previously thought), and validate that these states exist in human brains. We also uncover that STAT3 is a key regulator controlling which of the two reactive states astrocytes adopt, and validate this finding in a mouse model.
This work was led by graduate student Kun Leng, with contributions from other Kampmann lab members: Indigo Rose, Brendan Rooney, and Emmy Li.
It was a collaboration with the Lippmann and Schrag labs (Vanderbilt University), Fancy and Ullian labs (UCSF), the Sofroniew and Zhang labs (UCLA) and the Goate lab (Mount Sinai).
Read the original paper here:
Leng K et al.
CRISPRi screens in human iPSC-derived astrocytes elucidate regulators of distinct inflammatory reactive states 
Nature Neuroscience. 2022;25(11):1528-1542
The open-access preprint is here.
Read an article written for a general audience here.