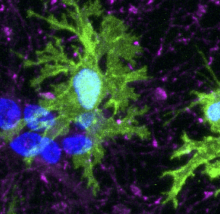 Microglia, the innate immune cells of the brain, are emerging as key drivers of neurological diseases such as Alzheimer's Disease. In our new publication, we present a CRISPR-based screening platform to uncover mechanisms controlling microglia states and functions in human induced pluripotent stem cell-derived microglia, enabling their functional characterization and therapeutic targeting.
This work was led by postdoc Dr. Nina Dräger, with contributions from other Kampmann lab members: Syd Sattler, Olivia Teter, Kun Leng, Jason Hong, and Giovanni Aviles.
It was a collaboration with Dr. Li Gan's lab, Data Tecnica International/NIH, Justin Ichida and Michael Ward.
Read the original paper here:
Dräger, N.M. et al. 
A CRISPRi/a platform in human iPSC-derived microglia uncovers regulators of disease states. 
Nature Neurosci (2022). https://doi.org/10.1038/s41593-022-01131-4
Read the UCSF press release written for a general audience here:
Reprogramming the Brain's Cleaning Crew to Mop Up Alzheimer's Disease - New CRISPR Technology Puts Diseased Microglia Back on Track