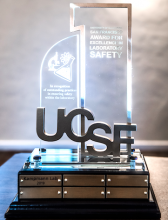 On March 6, 2019, Executive Vice Chancellor & Provost Daniel H. Lowenstein and Vice Chancellor of Research Lindsey A. Criswell recognized six UCSF research groups for their excellent safety cultures: The Prakash, Ku, Rosenberg, Gupta, Ron and Kampmann labs.
Dr. Martin Kampmann's lab was awarded the inaugural Excellence in Laboratory Safety Awards grand prize, which came with a trophy and gift cards for all lab members.
Way to go, Kampmann Lab!
Read the full press release here: https://ehs.ucsf.edu/news/ucsf-debuts-excellence-laboratory-safety-awards
More about the Safety Awards: https://ehs.ucsf.edu/excellence-lab-safety-program