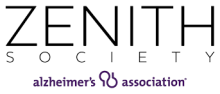 Martin Kampmann received a 2022 Zenith Fellows Award from the Alzheimer's Association.
The Zenith Fellows Awards are among the most prestigious in Alzheimer's research worldwide. Funded by Zenith Society members, the program has provided more than $45 million in awards to 146 leading Alzheimer's researchers in nine countries since 1991.
We are honored that the research of all lab members is recognized in this form, and for the ongoing support of our research by the Alzheimer's Association.
See more information here.