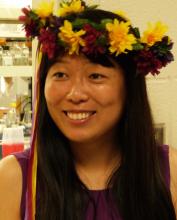 Postdoctoral Fellow Dr. Xiaoyan Guo received the 2020 John S. Spice Award in Aging and was named the 2020 Distinguished Research Scientist by the Larry L. Hillblom Foundation. 
This award recognized Xiaoyan's groundbreaking discovery of the molecular pathway by which human mitochondria signal stress to the cytoplasm, which was recently published in Nature:
Guo X, Aviles G, Liu Y, Tian R, Unger BA, Lin YT, Wiita AP, Xu K, Correia MA, Kampmann M (2020) Mitochondrial stress is relayed to the cytosol by an OMA1-DELE1-HRI pathway. Nature 579(7799):427-432.
Congratulations, Xiaoyan!